BloomYoga is excited to be running a Part-time 200hrs Yoga Teacher Training. This will be based in the BloomYoga studio, in Bayonne in the South West of France.
The Part-time 200hrs Yoga Teacher Training is spread out over a period of 6-7 months. The Yoga Teacher Training will begin with a week long intensive, followed by a full weekend of training once every month (for 6-7 months). The Part-time Yoga Teacher Training is for those of you who wish to have the time to reflect and prepare after each Teacher Training weekend (or week), in order to deepen your learning and understanding of Yoga. As it is spread over 6-7 months, you will have that time and space to grow as a Yoga teacher (and a practitioner!) so that once the training is finished you'll be fully prepared and ready to go! This Yoga Training is also ideal for those of you who cannot take one month off your work or lives to participate in the 30 day Full-time Yoga Teacher Training, and wish to continue working whilst studying.
The Part-time 200hrs Yoga Teacher Training will cover the same curriculum that is covered in our 30 day Full time Teacher Training, however it will be spread out over the 6-7 months. You have the opportunity to integrate your learnings into your everyday life, and put into practice all that you learn in the weekend (and week-long) trainings! Surrounded by the gorgeous basque countryside, the location is not bad either!
This Yoga Teacher Training will not only give you the qualifications to run dynamic and innovative yoga classes, but will also provide you with the time and space to build your confidence as a teacher, to develop a deep understanding of Yoga, and to massively improve in your Yoga, Pranayama and Meditation practice.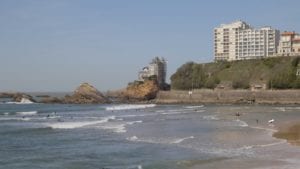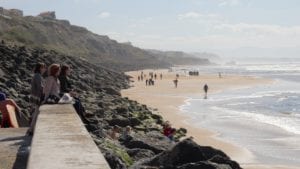 Biarritz/Bayonnne
The Basque country is one of the most beautiful corners of the world. Bayonne, the capital of the French Basque Country, is a very authentic French/Basque town. It stretches along the banks of the Rivers Adour and Nive, and is truly one of the prettiest towns in southwest France. With it's charming historical buildings, around since medieval times, and its riverside restaurants and shady cobbled streets, Bayonne is really a gorgeous city to visit and explore. Just a quick 15 minutes down the road you have the beautiful coastal city of Biarritz. Biarritz is a famous surfers' hang-out, with its stunning stretch of beach that allows you to peer into the Spanish Pyrenees from its waters.  Biarritz remains one of the southwest's seaside gems, and is the perfect spot to grab a quick sunbathe and swim in-between yoga classes…
Both Biarritz and Bayonne are also around 15-20 kms from Spain, with the lively tapas-filled town of San Sebastian only a short 45 minute drive away. The Pyrenees mountains are also just at your doorstep, so a lovely mountain walk on your days off are easily accessible. All in all, this is the perfect escape for a yoga training!

The Studio
BloomYoga is a yoga studio based in the heart of Bayonne city centre. Originally opening in 2014, BloomYoga is a friendly and welcoming studio, that opens its doors to the worldwide yoga community. The yoga space is full of light and warmth, you will feel right at home as soon as you walk through its doors.
We aim to create a safe space for you to explore your potential, and your limits, in an encouraging and loving way. BloomYoga Teacher Training will take place for most of the training in the BloomYoga studio.
The Cost
The total cost of the Part-time 200 hrs YTT is £2500.
To apply to participate in the BloomYoga Part-time 200hrs Yoga Teacher Training, click here. Please note that places are limited.