Zoe Bloom
Zoe is the Founder of BloomYoga studio, and has been practising yoga for around ten years. Originally from England, in 2013 she decided to leave her life in Sydney, where she'd be living for 7 years previously, and come to the beautiful basque country to pursue her dream of opening up a Yoga studio there. And the rest is history!
Yoga is her passion. The practice of asana, and the studying of yoga philosophy, has helped her work through challenging periods of her life, and to continue to work towards a place of self-acceptance and inner peace. For Zoe, yoga gives her strength and the belief that she can get through anything – no matter how challenging – by simply breathing in and out. This is a gift that she wishes to share with her students through her classes and trainings.
Zoe has had the privilege to participate in Yoga teacher trainings all over the world with some of the world's most inspiring teachers. She completed her Level I training (200 hrs) with Byron Yoga, Australia, and Level II (100 hrs) Teacher Training with Radiantly Alive, in Indonesia. Zoe also participated in the Intensive 200 hrs Teacher Training of Tripsichore Yoga, with the Yoga legend Edward Clark, in England, and has completed several trainings with him (and Nikki Durant) every year since. 
Zoe is a fully qualified Yin Yoga teacher, and participated in the amazing Bernie Clark Yin Teacher Training in Vancouver, Canada. She is also a fully trained Prenatal Yoga and Kids' Yoga teacher, and participated in a Dharma Mittra weekend intensive. Zoe is a Yoga Alliance Certified Teacher, and has studied and practised with some of the best yoga schools in the world, including Tripsichore Yoga, Jivamukti Yoga, BodyMindLife, Indaba Yoga, Byron Yoga, Semperviva Yoga and Radiantly Alive.
Through her classes and training, Zoe aims to provide you with the tools to breathe through discomfort, question your self-doubts, and challenge your self-imposed limitations. Anything is possible!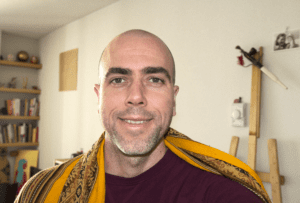 Oscar Pretel O'Sullivan
Oscar has been studying Eastern philosophy and practicing meditation for more than 10 years. Passionate about spirituality and travelling, he has travelled around the world studying several different spiritual paths, including yoga, hinduism, taoism, tibetan buddhism and sufism. 
He has received profound practices and teachings from high lamas and teachers, including the Dalai Lama and the Karmapa. He teaches meditation and yoga philosophy in a simple and profound way, making them useful in our daily lives.
Oscar has specialised his practice and studies in Compassion practices towards others and oneself, uniting eastern practices with western wisdoms, and ancient teachings with new philosophical and psychological approaches. He completed the "Compassion Training" with the Mindfulness Association on 2012.
Oscar has been running the Yoga Philosophy and Meditation classes with Zoe at BloomYoga studio since 2014.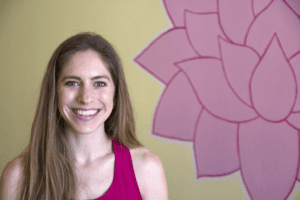 Angelique Mommer
Angelique is a practising Osteopath in Bayonne and St Martin de Seignosse. She is extremely passionate about, and fascinated by, the human body. Angelique begun her studies in 2008, which involved 2 years of studying Anatomy and Physiology. She graduated as an Osteopath in 2014 at Andrew Taylor Still Academy in Lyon, one of the best Osteopathic schools in France. Currently running two Osteopathy clinics, one in the Basque Country and one in Les Landes, Angelique works hand in hand with a Naturopath and a Relaxation Therapist.
Passionate about holistic medicine, Angelique always keeps herself informed and up-to-date about other branches of natural medicine (such as acupuncture, naturopathy, Ayurveda, aromatherapy, and quantum medicine). In particular, Angelique has pursued her interest in Energetic Anatomy (the chakrahs, and nadis), and how working from an energetic point of view also can help improve our general health.
Angelique is also an avid yoga practitioner. For Angelique, Yoga is another method of practicing osteopathy on the body. Yoga, she believes, as in osteopathy, helps one find balance and harmony in the body and helps us reach our optimal health. Angelique will bring her depth of knowledge and passion of Anatomy & Physiology, and the human body, into her fascinating and detailed Anatomy & Physiology classes during the BloomYoga YTT.